View Latest Arrivals
Welcome to Atlanta East Auto Auction
SimCasts
™

is Here!

Contact the office today to create
an account to Bid Online and use
our Dealer Mobile App!

How It Works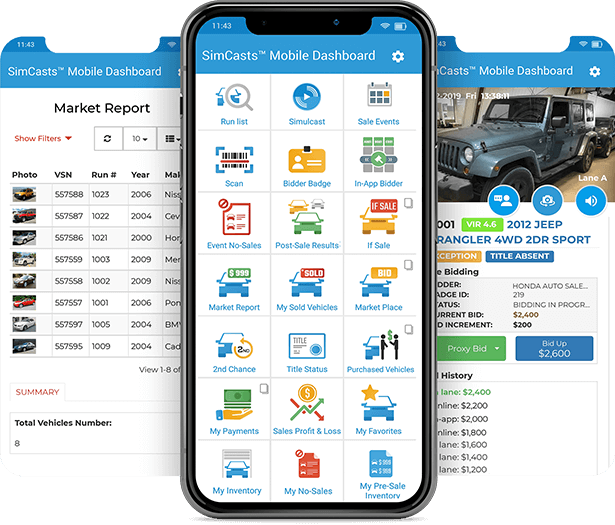 Buy Fee
View sale price
for buy fees
Sell Fee
View sale price
for sell fees
The Terms and Conditions
Please note the following terms and conditions
Atlanta East Auto Auction is merely performing an auction service, and is responsible only for their warranties, and guarantees set forth herein. We DO NOT guarantee any taxes, federal, state, county, municipal or ad valorem.
Seller and Purchaser agree to abide by all auction policies and policy decisions of management.
Arbitration Policy
Vehicles are arbitrable for 1 hours from time of sale on Green light vehicles. NO EXCEPTIONS, any arbitrated vehicle becomes as "AS-IS" transaction, with no further arbitration for mechanical defects. All arbitration must be handled through auction arbitration. YOU must wait for the outcome.
Facebook Video
Evening Show
The "Evening Show" starring Jefferson AKA The Dealmaker, Nick Collins AKA All-Star Auctioneer, Colonel Carr, Ron Dean AKA The Professor & Tanner Mooney AKA Quarter Moon From Bickerstaff's Atlanta East Auto Auction. Each Monday evening right at 6:45PM. Phone: (470) 552-1032 Address: 2970 US HWY 78, Loganville, GA 30052 www.aeautoauction.com info@aeautoaction.com YouTube: #atlantaeastautoauction Instagram: #atlantaeast18 Facebook: #aeautoauction #AEAutoAuction, #UsedCars, #NewAuctionOnTheBlock, #AtlantaEastAutoAuction, #DNA, #CureLLC #Bossman #11Alive #Fox5Atlanta #Channel2WSB #WSBRadio #AuctionNews #AtlantaJournalConstitution #AJC #USAToday #WAGA #WSBTV #DunwoodyCrier #TheCrier #LoganvilleTribune #WaltonTribune #LoganvillePatch #LoganvilleGeorgiaPatch Shane Corum Shawn Weatherby Patty Stephenson Levy Lacey Brackett Jeff Ramsey Robin Marie David Disharoon Lou Perno McKenzie West Dave Leach Steve Middlebrooks Elliot Mitchell Doug Harms SI Mitchell Billy Brackett Jesse Dillon Smith Jackie Parker Kellin Dobbs Debbie Fair Kevin Henderson Michael Mobley Chris Kerley Mike Harmon Timothy Weed Mitchell Lewis Payton Hope Johnson Eric Smith Nick Davis Bob Litterilla Nick Davis Michael Nash Jeff Duvall Katherine Brooke Benton Melissa Pearson Wesley Middlebrooks Larry Douglas Carter Mandi Bevis Danny Cantrell Melissa Diaz Lori Tlapa South Jeff Townsend Kipp Echols Steve Richards Kelly Ann Rhodes

Posted by Jefferson Smith Bickerstaff on Monday, September 16, 2019
About Us
Atlanta East Auto Auction is independently owned and operated to provide all dealers with exceptional sevice and very reasonable buy/sell fees for your auctioning and automotive needs.
We are located conveniently in Loganville Read More...